To mark National Poetry Day, we had a very special visitor in school on Thursday 6 October, local poet James Nash.
National Poetry Day is the annual celebration that encourages everyone to make, experience and share poetry with family and friends. James first visited the school last year working with some of our year 4 pupils, so we were thrilled he has been able to return this year and speak with children from Reception through to year 6.
James launched National Poetry Day in school with two special assemblies. He began talking about his career as a writer, working as a journalist for magazines and newspapers, as well as his work as a published author. He also shared the theme of the environment for this year's National Poetry Day and spoke about how lucky we are to be in Leeds, surrounded by lots of green space and nature.
Speaking about his approach to writing poetry, he talked to pupils about what inspires him, using his imagination and finding the right words to convey what he wants to say. He also announced the school poetry competition which he will be judging after the half term break. Two winners will be chosen per class and will receive a certificate and prize in assembly on 1 November.
At the end of each assembly pupils received a special treat, a reading of one of James' own poems. They were then very eager to ask him some questions about his work and poetry. During the rest of the school day, pupils took part in poetry themed lessons to help to help them think about what poem they might want to create for the competition.
"It is always good to come in to Richmond House School, the children are so friendly and creative. I hope I have shown them how they can find the right words to help them express what they want to say through poetry."
James Nash, Poet.

"We were delighted to welcome poet James Nash in school to give a special National Poetry Day assembly to our pupils. The enthusiasm James shares for his craft is infectious and he was truly inspirational, making it a special treat for us all."
Mrs Olivia Sullivan, Year 5 Teacher and English Lead.
We would like to thanks James Nash for coming to school as part of National Poetry Day and we are looking forward to seeing the competition entries from across the school.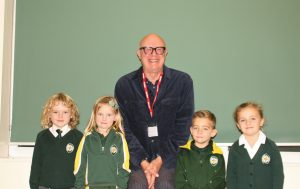 National Poetry Day was founded in 1994 by the charity Forward Arts Foundation, whose mission is to celebrate excellence in poetry and increase its audience. For more information: www.nationalpoetryday.co.uk
For more information about James Nash: www.jamesnash.co.uk
The poems James Nash, read to our pupils as part of his visit:
© James M Nash