We have a great sporting reputation here at Richmond House School. Sport is a key part of our curriculum, including opportunities to take part in extra-curricular activities and clubs after school. We are thrilled that we are able to offer Elite Netball coaching to our pupils from those in year 3 – 6.
Elite Netball Limited was founded by Anna Carter with the aim of opening up performance netball to more people and to improve the overall standard of training. Anna launched Elite Netball Limited in the midst of a global pandemic having previously guided Super League team Loughborough Lightning to a Grand Final in 2018. Anna's vast coaching experience included time as an England Pathway Coach, Selector and Technical Support Coach for the national side. Her experience and knowledge presents young athletes with the chance to learn from the best and access quality coaching to push their game to the next level.
"I am thrilled we can work with Richmond House School to help promote the benefits of the game but also support pupils with the high quality coaching to help them achieve the very best they can. Our coaches are committed to working with pupils, sharing their passion and knowledge of the game and I truly hope this inspires those who are taking part."
Anna Carter, Founder and Managing Director of Elite Netball Limited
We offer Elite Netball training to pupils during term time after school. The sessions are taken by Coach Ebony Greatorex. Ebony brings with her a wealth of experience having started playing at 6 years old she worked her way up the performance pathway in Yorkshire. She has played for Yorkshire Jets U19, Loughborough Lightning U19 and England Nets U18s, before going to University of Bath to study Sports Performance. Whilst there, she went on to represent the University at BUCS level in the Southern Premier League, alongside playing for Team Bath U21s and gaining her Level 2 Netball Coaching Qualification. Since returning to Leeds, she has gone on to coach at National Club/School Finals, World School Games and become Head Coach for the Regional 1 squad at Morrisons Netball Club. Additionally, she has recently been selected to be part of the England Mixed Programme & captain Northern Titans Netball Club's Mixed squad at the 2022 EMMNA Mixed National Finals.
"Throughout my playing and now coaching career, netball has provided me with a purpose. It's now offered a career pathway that I am working up day by day and provided the opportunity to explore the world. Providing opportunities for young players within the community is a key focus of mine, and always want children to have the balance of learning and enjoyment – something that I feel netball provides."
Ebony Greatorex, Elite Netball Coach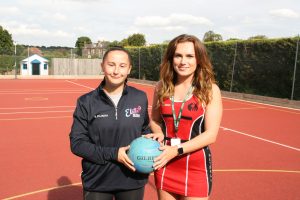 Our very own year 3 teacher Miss Francesca Silver also supports the sessions offered by Elite Netball with our pupils. She also has extensive experience in netball, having played in national clubs and to national school standard for many years. She currently plays with the Yorkshire regional league, as well as the West Yorkshire and North Yorkshire leagues.
The pupils taking part are showing excellent promise and we can't wait to see what the future brings for the players in school.